While all aeroplanes are impressive, a magnificent feat of engineering, it's the biggest planes that are the most awe-inspiring. With recent news that the largest plane in the world, the Airbus A380 will soon be going out of production, we could well be seeing a turning point. Sadly, these massive jets are just not as profitable as they were expected to be. Logic has it that the bigger the plane, the more passengers the airline can carry and so increase profits on a per-flight basis. In reality, if a flight is under-subscribed, these huge aircraft can be flying half empty, and with a large size comes a greater fuel cost. So as a tribute to these mammoth planes, we take a look at the 10 largest planes in the world… Read on to find out which is the biggest passenger plane in the world!
10. Airbus A340-500
When it was introduced in 2002, the Airbus A340-500 became the longest range commercial aircraft in the world. Emirates was first to adopt the aircraft to enable it to run a non-stop service between New York and Dubai. In a 3 class cabin, the A340-500 seats 313 passengers. The plane is 53.56m long and 5.28m wide. Only a handful of A340-500s are still in operation.
9. Ilyushin 96-400
Interestingly, the Ilyushin is the only plane in the top 10 that isn't manufactured by either Airbus or Boeing. This Russian wide body plane is manufactured by Voronezh Aircraft Production Association and can seat 315 passengers in a 3 class cabin. First introduced in 1992, these planes are still in production, but at a low rate, with only 30 ever being built. Several of these remain in use today.
8. Airbus A340-300
The Airbus A340-300 first entered service in 1993 with Air France and Lufthansa. There are still nearly a hundred of these planes in service, many of which are flown by Lufthansa. It is 59.39m in length and has a cabin length of 46.06m.
7. Airbus A330-300
A highly economical aircraft with space for up to 335 passengers in a 2 class layout. This plane entered commercial service in 1994 with Air Inter (which has since merged with Air France). Turkish Airlines is the main operator of the A330-300 with a fleet of more than 60.
6. Boeing 777-200
A direct competitor to the Airbus A330-300, the 200 was the first variant of the Boeing 777. It was created with the US domestic market in mind and proved to be highly popular. It entered service in 1995 with the first deliveries going to United Airlines.
5. Boeing 747-8 Intercontinental
The Boeing 747-8 Intercontinental was first ordered by Lufthansa and began commercial flights in 2012. It has a generous cabin width of 6.1m and with a 3 class cabin can seat up to 467 passengers. This jet was designed with passenger comfort as a priority, with wider doors and attention to detail such as LED mood lighting.
4. Airbus A340-600
This aircraft has the longest fuselage of all the Airbus A340 variants. The cabin length is 60.98m and it has a width of 5.28m. The first planes off the production line went to Virgin Atlantic and they were first used commercially in 2002.
3. Boeing 747-400
This highly popular wide-body aircraft first went into service in 1989, flown by Northwest Airlines. It is the best-seller among the Boeing 747s. Due to the age of these jets, many are now being retired and replaced with more modern aircraft, but you'll still find plenty in service with Lufthansa, Qantas, KLM and British Airways all including them in their fleets.
2. Boeing 777-300
Created as the next step on from the Boeing 777-200, the 777-300 was first approved in 1995 and launched at the Paris Air Show that year.  It did not go into commercial use until 1998 when an order to Cathay Pacific was fulfilled. With a 73.8 meters length, it is 3.4 longer than the 747-400. It has a wingspan of 61 meters.
Emirates is the largest operator of the 777-300 and interestingly is the only airline to have operated every single 777 variant. There are currently over 1400 of these jets in commercial use.
1. Airbus A380-800: biggest passenger plane in the world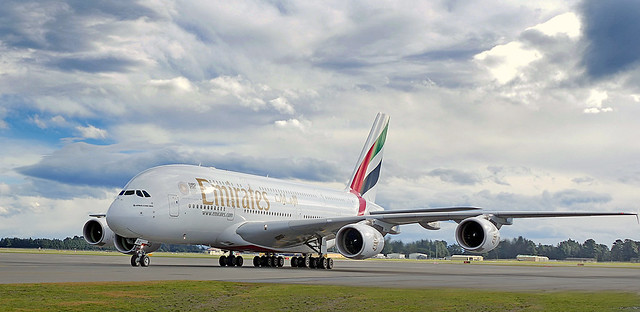 This massive double-deck wide body aircraft is certified to carry up to 853 passengers. Emirates has been a big customer for the A380-800 but the airline has recently reduced the size of its orders. Airbus has recently announced that production will cease. The final aircraft will be delivered in 2021, so we will still see this, the biggest plane in the world, in the skies for some time yet. To find out more about why the was a380 was cancelled, check out our article what happened to Airbus A380's success story?
John is a passionate traveler who has traveled to over 46 countries on more than 30 different airlines. He loves surfing, booking hotels and flights using his frequent flyers points, and exploring new cultures. John lives in London.