Discover the list of the best business class airlines, assessed for their overall service to business class customers, according to Skytrax's World Airline Awards often regarded as the "Oscars" of the aviation industry.
Over recent years, business class airlines have been regularly innovating and improving their business class seats and services. It's highly competitive, with each airline wanting to secure the lion's share of the lucrative business class trade.
When it comes to travelling business class, we tend to have high expectations. After all, we are paying a lot more money for the luxury of flying business class, so we want a certain level of comfort and service. The business class experience is made up of many aspects. The courtesy of the staff, the food and drink, the entertainment system, and perhaps most importantly, a comfortable seat that converts into a bed. Whether you are travelling business class for a business trip, or you're simply going away on holiday, being able to sleep well on a long haul flight is one of the major deciding factors when it comes to choosing business class.
15. Swiss International Air Lines
Swiss International Air Lines has an interesting business class product as there are different types of seating such as the throne seats which can be reserved, but are subject to an additional charge. Stylish amenity kits from Victorinox are a nice touch.
14. Japan Airlines
Japan Airlines Apex Suites seats offer a lot of privacy, they're also very large and even have a massage function. The screens here are massive at 23 inches. There's a Japanese and Western menu to choose from, and the meals are exquisite.
13. Austrian Airlines
If you're a foodie, then you'll enjoy the high class food served in Austrian Airlines business class. The airy cabin has a spacious feel and the bedding is of a high quality.
12. Garuda Indonesia
Garuda Indonesia has well thought out seats with everything to hand. They're both spacious and private with lots of storage compartments. The menu is well balanced and the wines have won awards.
11. Hainan Airlines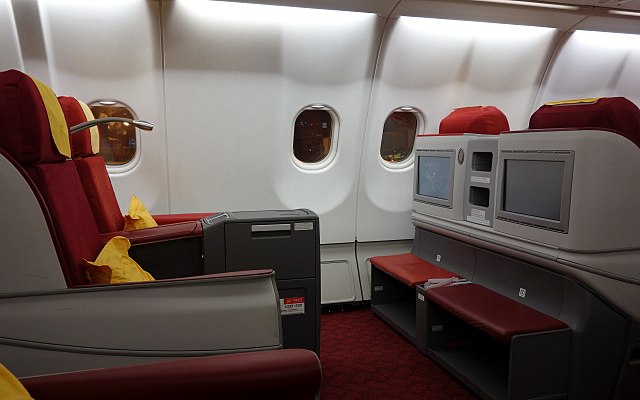 Hainan Airlines gives you an all round good experience. From the thoughtful Bulgari amenity kit, to the tasty Chinese food courtesy of the HaiChef service, and the award winning alcoholic drinks selection.
10. EVA Air
EVA Air made it to the top 10 of the best business class airlines. Fly business class with EVA Air and you're treated to a wide seat (26"), amazing Taiwanese food, and some delightful extra touches such as designer pajamas from Apujan and amenity kits from Rimowa.
9. Turkish Airlines
The cuisine on board Turkish Airlines business class was voted Skytrax World's Best Business Class Airline Catering. The seats don't offer a great deal of privacy, so are perhaps more suited to when you're travelling with a companion rather than alone.
8. Lufthansa
While perhaps not as elegant as its award winning first class product, Lufthansa business class still has a lot going for it, not least of which is the warm and friendly welcome from the cabin crew. Good service goes a long way. The seats are not that large at 20" wide and 76" long but they do lie flat and they are pretty comfortable.
7. Cathay Pacific Airways
The reverse herringbone seats of Cathay Pacific Airways offer plenty of privacy and abundant storage. The overall look of the cabin is quite luxurious and the menu offers some delicious classic Hong Kong dishes.
6. Qantas Airways
Qantas Airways offers a large 23"-24" wide and 80" long bed, so it's better than average if you're tall. The dine-on-demand service means you're not stuck to a set meal time, you just order when you're hungry.
5. Etihad Airways
Etihad Airways business class product is called the Business Studio. It is in the top 5 of the best business class airlines ranking in 2019. The cabin and seats are great looking and ooze style. Window seats give plenty of privacy, and there's a small comfortable bar area for those preferring to be more sociable.
4. Emirates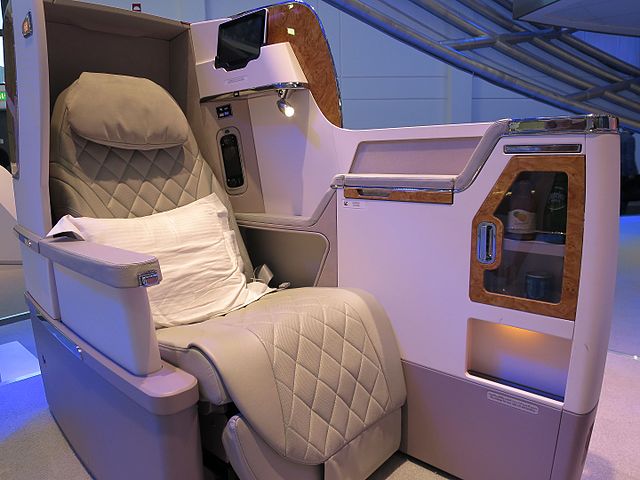 Fly Emirates business class and you're certainly made to feel special. From your seat-side mini bar, to the motorized window shades and the Bulgari amenity kit, it all feels rather prestigious. The in-flight bar is another nice addition and offers a pleasant alternative to your seat for a break during a long flight. In June 2019, Emirates received a passenger choice awards by APEX for "Best Entertainment".
3. ANA All Nippon Airways
ANA All Nippon Airways scores well for a high level of customer service. The comfortable seats lie fully flat, and there is plenty of storage space. With delicious Japanese food available, a large entertainment screen and a good amenity kit, ANA All Nippon Airways deserves its spot in the top 3 of the best business class airlines.
2. Singapore Airlines
Singapore Airlines is ranked second in the best business class airlines ranking in 2019. Singapore Airlines has recently upgraded its business class cabins and it's done an amazing job. You can now share a double bed with your loved one, and take advantage of some great technology upgrades such as fast Wi-Fi and fantastic in-flight entertainment options.
1. Qatar Airways: best business class airline in 2019
It will perhaps not come as a surprise that Qatar Airways tops the list of the best business class airlines with their ground-breaking QSuite. A highly adaptable seating system with aisle access for all seats, fully flat beds and luxurious, comfortable bedding. The airline offers one of the best business class seats in the world, and if you have a chance to travel through Doha, you should check the business class lounge which is considered one of the best business class lounges in the world.
Update: in June 2019, Qatar Airways won 4 out of 6 APEX Passenger choice Awards. APEX is the Airline Passenger Experience Association. It counted more than one million verified passenger votes in 2019. Qatar Airways was named "best airline in the Middle East", one of the most competitive regions in the world for airlines. It also won "best cabin service", "best food & beverage", and "best seat comfort".
source: Skytrax
Emily is an avid writer with a passion for the travel industry. She also loves learning and writing about nutrition and healthy living. Emily is based in the UK.