Ever wonder which are the best business class airlines in the world? Over recent years, business class airlines have been regularly innovating and improving their business class seats and services. A highly competitive segment, business class is also a lucrative one as business class passengers are twice as profitable as economy class passengers.
The business class experience is made up of many aspects. The courtesy of the staff, the food and drink, the entertainment system, and a comfortable seat that converts into a bed, are all taken into account to determine the best business class airlines. We've listed most of those criteria at the end of the article.
The 2021 business class ranking that follows is based on Skytrax's most recent world airline awards, which is often regarded as the "Oscars" ceremony for the aviation industry. Due to the Pandemic crisis, the 2020 ranking has not been updated and still applies to 2021.
With the exception of Qatar Airways which tops the ranking, the best business class airlines are mostly asian. Several major European and American airlines, such as Air France and American Airlines dropped off the radars, but appear in other types of rankings, namely respectively Best Business Class Lounge Dining and Best Business Class Airline Lounges.
And in case you wonder which are the best business class airlines to Asia, look no further as all the 15 airlines of the ranking below fly to Asia.
Last update: Updated on April 22nd, 2021.

Best business class airlines in the world
15. Swiss
Swiss International Air Lines, also referred simply as "Swiss", offers a 2-meter flat bed. Depending on where you are seating on a row and which type of plane you're flying, you may get the throne seat, which is alone by the windows and offers the best privacy compared to other seats. If you are looking to enjoy your flight on a throne seat, you will need to book it in advance for an additional charge of US$200. Stylish amenity kits from Victorinox are a nice touch.
Foodies will enjoy meals prepared by Swiss chefs, several of whom have earned Michelin stars, and of course you can expect to get Swiss cheese and Swiss chocolate.
14. Japan Airlines
If you are seating by the window, Japan Airlines Apex Suites will provide you with the maximum level of privacy, thanks to a staggered configuration in a 2-3-2 setup and a partition between the seats that can be raised. The seats, which were voted 3rd best business class seats in the world, are also very large and even have a massage function. This is really enjoyable on a long-haul flight. The footwell is wide, contrary to what you can see on other airlines's business class cabins. On the down side, you will not get much storage within reach for your personal belongings.
The screens here are massive at 23 inches. There's a Japanese and Western menu to choose from, and the meals are exquisite.
13. Austrian Airlines
For long-haul flights, Austrian relies on six Boeing 777-200ER and six Boeing 767-300ER. If you are flying on one of Austrian's 6 Boeing 777-200ER, you'll get the staggered seats configuration. In November 2019, the airline launched 3D seats map for its Boeing 777 flights. This means that you will be able to check your seat's configuration through an immersive 3D experience.
The airy cabin has a spacious feel and the bedding is of a high quality. If you're a foodie, you'll enjoy the high class food served in Austrian Airlines business class. If you are a coffee drinker, you'll get to choose between 10 freshly Viennese coffees.
12. Garuda Indonesia
If you live in the US, you may not be familiar with Garuda Indonesia as the airline doesn't provide flights to that part of the world. However, be not mistaken, as the national airline of Indonesia is one of the world's ten airlines that have obtained the coveted 5-star airline rating according to Skytrax. It is also is part of Skyteam alliance.
Garuda Indonesia has well thought out seats with everything to hand. They are both spacious and private with lots of storage compartments. If you fly on a Boeing 777-300ER, you'll get a staggered seat configuration with direct access to the aisle no matter where you seat. Garuda's other aircraft don't offer such a configuration.
On the food side, the menu is well balanced and the wines have won awards.
11. Hainan Airlines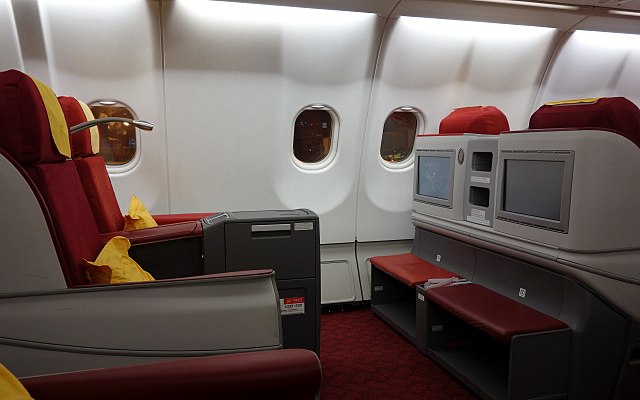 Hainan Airlines was born in 1993 and has the second youngest airline fleet in the world. It is viewed as the best airline in China. It has been awarded Skytrax's prestigious 5-star airline rating, along with All Nippon Airways, Asiana Airlines, Cathay Pacific, EVA Air, Garuda Indonesia, Japan Airlines, Lufthansa, Qatar Airways, and Singapore Airlines. The Chinese airline gives you an all round good experience during your flight. From the thoughtful Bulgari amenity kit, to the tasty Chinese food courtesy of the HaiChef service, and the award winning alcoholic drinks selection. The airline won the world's Best Business Class Amenities title in 2019 (Skytrax).
Until September 2019, the airline used to offer a limo service for international business class travellers. That nice touch was cut as parent company HNA Group tries to cut costs amidst financial troubles.
10. EVA Air
EVA Air made it to the top 10 of the best business class airlines. Fly business class with EVA Air and you'll be treated to a wide seat (26"), amazing Taiwanese food, and some delightful extra touches such as business class pyjamas from Apujan and amenity kits from Rimowa. If you are flying aboard the "Royal Laurel", the business class of EVA Air Boeing 777s, you'll get a reverse-herringbone configuration that will give you direct access to the aisle no matter where you seat, and will provide you with a good level of privacy if you are traveling alone. If you are traveling with a partner, you'd better choose a middle seat.
In December 2019, EVA Air replaced its RIMOWA amenities kits by a new line of Salvatore Ferragamo amenity kits which comes in both hard case and soft bag designs. The airline, one of the few airlines that offers pajamas in business class, also announced it would continue its collaboration with Taiwanese-Canadian fashion designer Jason Wu to create a new generation of sleepwear.
9. Turkish Airlines
With 315 destinations in Europe, Asia, Africa and Americas, Turkish Airlines has become a truly global airline and one fo the largest airlines in the world per number of destinations. The cuisine on board Turkish Airlines business class was voted Skytrax World's Best Business Class Airline Catering. The seats don't offer a great deal of privacy, so are perhaps more suited to when you're travelling with a companion rather than alone. However, they are reclinable into a 193 cm-long full-flat seat. While you're waiting for your flight in Istanbul new airport, make sure to check out Turkish Airlines's business lounge which has earned the top spot in the 2019 ranking of the world's best business class lounges.
8. Lufthansa
While perhaps not as elegant as its award winning first class product, Lufthansa business class still has a lot going for it, not least of which is the warm and friendly welcome from the cabin crew. Good service goes a long way. The seats are not that large at 20" wide and 76" long but they do convert into flat seats and are pretty comfortable. You will also get ample storage so that you won't have to stand up and open the overhead bin to get access to your belongings. However, since the airline has chosen to fit 6 business class seats per row, you will not get the level of privacy offered by a staggered configuration with direct aisle access.
7. Cathay Pacific
Cathay Pacific is the flag carrier of Hong Kong, which itself is the world's top destination for visitors, according to data collected by data from Euromonitor International. The airline ranks 7th in the world for its business class. The reverse herringbone seats of Cathay Pacific Airways offer plenty of privacy and abundant storage. The overall look of the cabin is quite luxurious and the menu offers some delicious classic Hong Kong dishes.
In November 2019, Cathay Pacific announced a new range of amenities. Business class passengers will now receive premium slippers, a new unisex amenity kits by Bamford. Overnight flights will also be a pleasant experience with the addition of larger sustainably-source pillows and premium slippers, as well as a soft mattress topper, for a more comfortable sleep. The airline also announced that it was rolling out wifi throughout its fleet, starting with its 777-300ERs planes. While Wifi is free on first class flights, it will cost you $10 for one hour and $20 for the whole flight duration for unlimited data.
Cathay Pacific offers Hong Kong-inspired menu in all classes. A partnership with Hong Kong tea shop Fook Ming Tong, will allow tea lovers to enjoy a wide selection of Chinese teas including jasmine, oolong and gun powder.
If you travel through Hong Kong, be sure to check out our Cathay Pacific Pier Lounge Review, which covers everything from the tea house to the yoga space.
6. Qantas Airways
Australia's flagship airline is the third oldest airlines in the world and is part of the oneworld alliance. Quantas offers two types of business class seats configurations: the Business Suites and the Business Skybeds, an older version of the business class seats which is still offered on some long-haul flights from Sidney to London, New York and Los Angeles.
Qantas Business Suites offers a large 23"-24" wide and 80" long bed, so it's better than average if you are tall. Besides, these seats offer a great plus if you want to max out your sleep time as you'll be be able to recline your seat from taxi to take-off through landing. Should you choose to do so, you'd be required to use the sash belt. The dine-on-demand service means you're not stuck to a set meal time, you just order when you're hungry.
5. Etihad Airways
Etihad Airways business class product is called the Business Studio. The smallest gulf carrier, which does not belong to any airlines alliance, aims to become the "boutique hotel of airlines" according to its CCO, Robin Kamark. The strategy has allowed the Abu Dhabi based airline to rank 5th among the world's best business class airlines in 2019. The cabin and seats are great looking and ooze style. Window seats give plenty of privacy, and there's a small comfortable bar area for those preferring to be more sociable. The airline used to offer pajamas in business class but stopped it in 2017 and only provides it in first class.
4. Emirates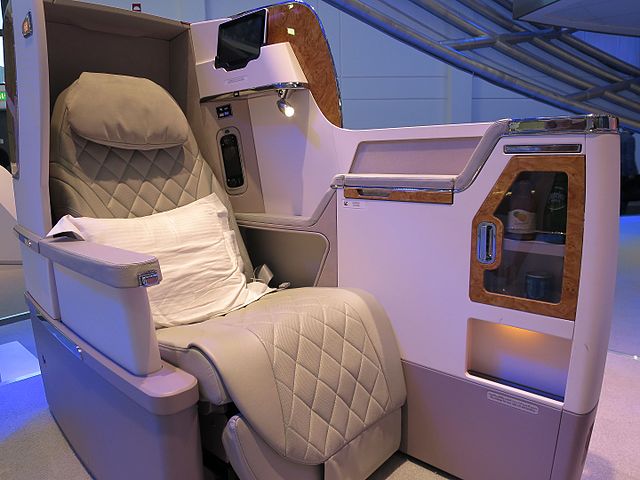 Fly Emirates business class and you're certainly made to feel special. From your seat-side mini bar, to the motorized window shades and the Bulgari amenity kit, it all feels rather prestigious on board an Emirates flight. The in-flight bar is another nice addition and offers a pleasant alternative to your seat for a break during a long flight. In June 2019, with its 4,500 channels of entertainment, Emirates received a passenger choice awards by APEX for "Best Entertainment". In November 2019, AirlineRatings.com also rewarded the Dubai-based airline with the "best in-flight entertainment".
3. ANA
Japan's largest airline recently redesigned its business class and first class cabins on 12 of its 55 Boeing 777s. ANA All Nippon Airways scores well for a high level of customer service. The comfortable seats lie fully flat, and there is plenty of storage space. With delicious Japanese food available, a large entertainment screen and a good amenity kit, ANA All Nippon Airways deserves its spot in the top 3 of the best business class airlines.
2. Singapore Airlines
Singapore Airlines is ranked second in the best business class airlines ranking in 2019. The flag carrier airline of Singapore, which was acclaimed for offering the best business class seats, has recently upgraded its business class cabins. You can now share a double bed with your loved one. Besides, Singapore airlines offer you the ability to take advantage of some great technology upgrades such as fast Wi-Fi and fantastic in-flight entertainment options to pass time.
1. Qatar Airways
Once a regional airline in 1997 with only four planes, the Doha-based airline now owns more than 200 aircraft and receives a new aircraft every 10 days, according to its CEO Akbar Al Baker. Qatar Airways is one of the world's ten 5-star airlines and has earned a plethora of awards.
It will perhaps not come as a surprise that Qatar Airways tops the list of the best business class airlines with its ground-breaking QSuite, which was ranked number 1 among the best business class seats in the world and is often compared to a first class experience. The innovative seat is a highly adaptable seating system that provides a private space to a group of up to four passengers, such as family members or business colleagues. It also transforms into a fully-flat double bed, which is perfect for couples. The sliding doors with a "Do not disturb" feature offer a perfect level of privacy, on top of direct aisle access for all seats. QSuite, which was launched in June 2017, will equip all Qatar Airways business class flights to the US from August 2020 onwards.
If you have a chance to travel through Doha, you should check the business class lounge which is considered one of the best business class lounges in the world. Qatar Airways is also one of the few airlines that offer pyjamas in business class.
In June 2019, Qatar Airways won 4 out of 6 APEX Passenger choice Awards. APEX is the Airline Passenger Experience Association. It relies on more than 1 million verified passenger votes. Qatar Airways was named "best airline in the Middle East", one of the most competitive regions in the world for airlines. It also won "best cabin service", "best food & beverage", and "best seat comfort".
In November 2019, Qatar Airways was confirmed best business class airline in the world at the Airline Ratings Awards by AirlineRatings.com. The rating was done by a panel of seven editors with over 200 years' industry experience. The panel of judges praised Qatar Airways "QSuite". Qatar Airways also won the "best catering" award.
"Qsuite is a first-class experience in business class. (…) It leaves nothing to chance, and our judges rated it as one of the best overall business-class products they had seen. It sets a standard to which some airlines can only aspire.'' said AirlineRatings.com editor-in-chief Geoffrey Thomas
In December 2019, Qatar Airways also won the "best business class seat and travel" title in the UK at the Head for Points awards organized by the largest business travel and frequent flyer website in the UK.
Criteria used to rank the best business class airlines
The best business class airlines are determined from a voluntary survey conducted between September 2018 and May 2019. In 2019, close to 22 million people from 100 countries responded to their surveys on a voluntary basis. Their opinions led to the ranking of over 300 airlines according to the set of criteria described below.
Cabin service:
staff attitudes
staff grooming
boarding assistance
meal service efficiency
problem solving skills
and 6 other criteria
Ground and airport:
airline website
online booking
online check-in
airport ticketing
baggage delivery
airport staff: efficiency
baggage / carry-on policy
airline lounge
boarding efficiency
check-in: service standards
and 8 other criteria
Onboard product:
Whether you are looking for a gourmet menu or simply want to be able to stretch your legs, the onboard product describes the quality of the experience during your trip in the air.
seat comfort
cabin cleanliness
toilet cleanliness
quality of meals
quantity of food
cabin wi-fi & connectivity
choice of AV programming
standard / choice of beverages
on demand AV options
cabin temperatures
and 8 other criteria
Emily is an avid writer with a passion for the travel industry. She also loves learning and writing about nutrition and healthy living. Emily is based in the UK.